Bishop of Durham on UK banking committee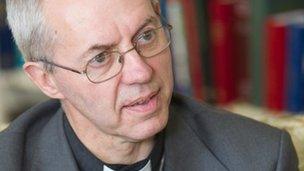 The Bishop of Durham has been asked to be a part of the committee looking into UK banking standards.
The committee will be made up of representatives across parties in both Houses of Parliament with six from the Commons and five from the Lords.
Their aim is to look into the professional standards and culture of the UK banking sector.
The Right Rev Justin Welby said he was honoured to be a non politically aligned member from the House of Lords.
The commission will be led by Conservative MP Andrew Tyrie, Chairman of the Commons Treasury Select Committee.
It will look into the rate-setting process of the UK banks and any lessons to be learned about corporate governance, transparency and conflicts of interest.
Before becoming a priest the bishop spent 11 years in the oil industry. He was installed as the new Bishop of Durham in November.
Bishop Welby said: "I am very honoured to have been invited to take part in this important inquiry.
"The work commitment is obviously going to be intense, but short lived.
"It is an area where I hope to be able to make a useful contribution."