Missing prostitute Rachel Wilson's body found at Coulby Newham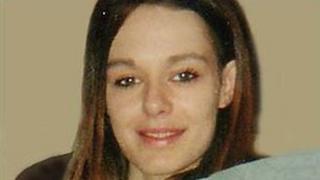 Human remains found on farmland on Teesside were those of a woman who went missing 10 years ago, Cleveland Police have said.
Rachel Wilson, 19, who had been working as a prostitute, disappeared from her home in Grove Hill, Middlesbrough, on 30 May 2002. She was last seen on CCTV in the town the next day.
Her remains were discovered near Newham Hall Farm in Coulby Newham on 27 June.
The force confirmed it had reopened the investigation into her death.
However, detectives have ruled out a link with the disappearance of two other Middlesbrough women.
In 1998 Donna Keogh, 17, went missing from the same area of Middlesbrough town centre and Vicky Glass, 21, was last seen in the town in 2000.
Her remains were found on the North York Moors six weeks later, but her killer has never been found.
Both Ms Wilson and Ms Glass had turned to prostitution to feed heroin habits, police said.
Man arrested
Cleveland Police said while there was no direct link between the three cases, they would be cross-referenced.
Officers have also investigated and ruled out links with murders in Suffolk in 2006.
A 57-year-old man was arrested in 2003 in connection with Ms Wilson's disappearance, but was released without charge.
Speaking at a press conference, Ms Wilson's mother, Tina Wilson, said: "For the last 10 years we've been sure she'll come in the house.
"On Friday we found out she wouldn't.
"All I'm asking for is somebody that knows, come forward and let us know and let us find out what happened to Rachel."
Ms Wilson's remains were found in a hollow in the ground by a farmer, who was carrying out drainage work.
Experts, including forensic archaeologists, have been involved at the scene, but Det Supt Peter McPhillips said no viable evidence had been recovered.
He said the discovery represented "some closure" for Ms Wilson's family.
He added: "The anguish they have suffered over the years is unimaginable but they have never given up hope that Rachel will return home again.
"There's been a post-mortem examination carried out and we cannot confirm how she died. It's going to be really difficult. We have got no cause of death, there was no clothing there."
He said there was a chance police may never know how she died.