Ex-soldiers set go-karting world record in Middlesbrough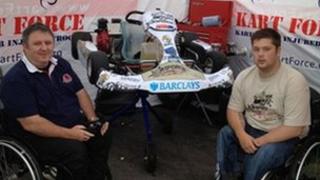 Four ex-servicemen who were injured in Afghanistan have become world record holders for hand-controlled go-karting.
Ashley Hall, Martyn Compton, Steve Shine and Mark Allen set the record for the longest distance covered outside by the modified karts in 24 hours.
They covered a distance of 1,886.6km (1,172.3 miles), which is 2,660 laps of the track they used in Middlesbrough.
The men drove in one hour stints in strict rotation, in accordance with the Guinness World Record rules.
Organiser Dave Player said: "These guys have proven that you don't need all your limbs to race, if the weather had been better they would have smashed the existing record for regular go-karting.
"They had to drive for an hour at a time and change drivers in a certain sequence, making sure they all got breaks. They loved it and now want to go on to set more world records.
"We're going to try to break the record we set today next year, when hopefully the weather wont be against us."
The changeable weather meant the team had to switch from wet tyres to slicks during the race.
KartForce, the charity behind the record-setting race hopes to have more teams across the UK by next year, in Wales and Scotland.
Dino Kart, who were trying to break a world record at the same time at KartForce, failed to break the record for go-karting outdoors of 2,065km (1,283 miles) in 24 hours. They will attempt the break it again in 2013.