Middlesbrough Sikh festival the Nagar Kirtan to fill streets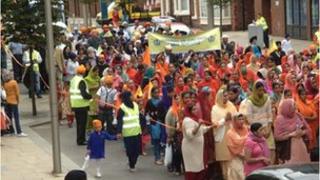 A colourful procession of religious pride will fill Middlesbrough's streets on Sunday.
The annual Nagar Kirtan festival sees Sikhs from around the North East meet up in the town.
Crowds dress in orange or blue and sing devotional hymns as they pass through the streets.
The parade will leave the Sikh temple on Lorne Street at around 10:30 BST before passing along Union Street and Borough Road as it makes its way to Centre Square and the mima gallery.
Large community
One of the organisers, Gurmayre Singh, said the festival was about "taking the Sikh community to the town".
"It's to let people know about our culture and our religion, everyone is welcome," he said.
"People from all faiths have contributed."
A Langar (community meal) will be served to everyone who gathers to hear speeches at the end of the parade.
'Indian instruments'
Teesside's Sikh community has been growing since the late 1940s. The first gurdwara was founded on Milton Street and then moved to Southfield Road in the 1960s.
As the Sikh community grew it moved again to its current home on Lorne Street.
Up to 1,500 people are expected on Sunday.
Mr Singh said: "The procession is very colourful and it's also quite musical with the songs and Indian instruments.
"People from all over the country are coming and everyone is welcome to come along."