Bowes Museum must match £1m funding boost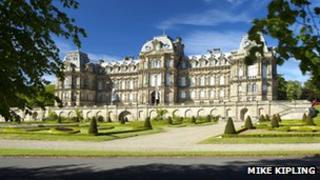 A County Durham museum has been awarded £1m over four years for an endowment fund to finance its curatorial, conservation and education work.
However, in order to get the full amount the Bowes Museum must match the cash pound-for-pound.
It has been granted by the Catalyst Endowments programme, which encourages relationships between heritage organisations and private donors.
The museum said it would do its utmost to raise the matching amount.
Head of finance, Richard Welsby, said: "This funding will be of lasting value because donations received, plus the match funding, will be invested permanently in a newly created endowment fund to create income for the museum in perpetuity.
"We are delighted with the confidence shown in us and we will do our utmost in working towards ensuring that we receive maximum benefit from the scheme."
The Catalyst Endowments programme is a joint enterprise between the Department for Culture, Media and Sport, the Heritage Lottery Fund (HLF) and Arts Council England.