Exhibition lays bare the secrets of paralympic success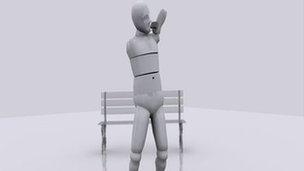 It is hard to put a number on it, but Simon McKeown thinks he has broken around 100 bones in his body.
The artist was born with Osteogenesis Imperfecta, a condition that causes bones to be extremely fragile.
His disability however, has not stopped him from becoming a world-renowned animator. His latest animation piece shows how disabled athletes move and compete at the highest level.
In the animation, viewers can watch a series of motion captures featuring paralympians demonstrating their sport.
The exhibition is going on show at Teesside University's Darlington campus before it joins the London 2012 Cultural Olympiad festival show in September.
Mr McKeown, who is originally from South Bank, was keen to avoid the usual streotypes he says sometimes accompany art focusing on disability.
He said: "As an animator, I'm keen on seeing the way that people move. We all have a physical signature that's different for people with different body weights and attitudes.
"The idea was to take that a stage further and see how disabled people do day-to-day life.
"I've been able to capture some really beautiful movements."
One of the models captured was Tanni Grey-Thompson, who was born with spina bifida, and was one of the most successful disabled athletes in the UK.
Power lifters, sailors and volleyball players also feature.
Mr McKeown, a reader at Teesside University, said: "Around 20% of the population will, at some point in their life be identified as disabled, but still disabled people are not visible enough in our culture and on television."
The exhibition can be viewed at Teesside University's Darlington campus from 18-29 June between Monday and Friday.
Related Internet Links
The BBC is not responsible for the content of external sites.