World's first black professional footballer Arthur Wharton honoured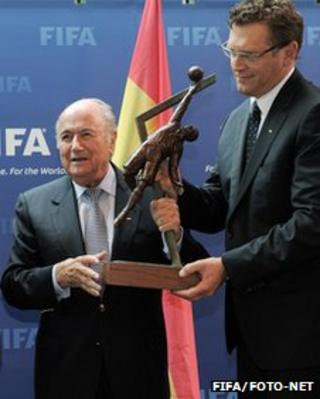 The world's first black professional footballer has been honoured by the sport's governing body.
A statuette of Arthur Wharton, who began his career in Darlington, is to be displayed in the presidents' lounge at Fifa headquarters in Zurich.
It was presented to the organisation's president, Sepp Blatter, by the Arthur Wharton Foundation, which was set up to bring his story to prominence.
Foundation founder Shaun Campbell called it a "fantastic testament".
Mr Blatter said the presentation showed Fifa was taking the issue of racism in football seriously.
'Connecting people'
"This is a very important day for Fifa," he said.
"We are working against any discrimination. Football is connecting people, bringing people together, so we can only compliment this Arthur Wharton Foundation," Mr Blatter added.
"[He] was the first black professional in England but how long they had to wait until the first black man was in the English national team, this is practically a 100 years later."
The footballer has already been officially recognised at Wembley by the Football Association , which also donated £20,000 towards a statue of him in Darlington.
Wharton moved from Africa's Gold Coast, now Ghana, to the north-east of England in 1884, aged 19.
He intended to train as a Methodist preacher at Cleveland College, Darlington, but was also a keen sportsman.
In 1886 he became the Amateur Athletics Association national 100 yards champion, the first "northerner" to win the trophy.
'Minds and hearts'
A year later he set a record time for cycling between Preston and Blackburn.
His sporting prowess was spotted by Darlington Football Club, where he became a goalkeeper between 1885 and 1888 and England's first black professional footballer.
He later played for Preston North End, Stockport County and Sheffield United.
Local businessman and Darlington FC supporter Shaun Campbell has been campaigning for acknowledgement for Wharton for more than five years.
He believes his recognition by football's world governing body is a "fantastic testament to the legacy of Arthur" and the "many people who followed after him".
"Acknowledgement from those people, the collective embracing of Arthur Wharton, is indeed very, very empowering," he said.
"It firmly places Arthur in the minds and the hearts of the footballing world.
"This is not a local thing - he's now got international recognition."