Woman registers new 161-word name for Red Dreams charity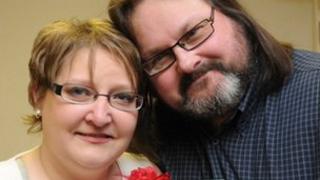 A woman from Hartlepool has a new 161-word name after changing it by Deed Poll.
Dawn McManus, 41, promised to change her name to encourage fundraising for her charity, Red Dreams, which was set up after the death of her son.
She believes her new name - including the charity's name and people it has helped - could be the world's longest.
"Officially I should be called Red, but I appreciate some people will find it hard to embrace the change," she said.
She said her husband would probably "slip up" and call her Dawn rather than Red, her new first name, and Dreams, her new surname.
"He's not bothered I'm losing the McManus. He'll get used to it," Ms Dreams added.
'Crazy names'
The new name was registered via The Legal Deed Poll Service.
Tina Clough, spokesperson for The Legal Deed Poll Service, said: "We have processed a number of crazy name changes to date, but this is the longest one on record."
Ms Dreams said she did not know how the new name would fit on her passport or bank card but hoped she would be allowed to use initials or an abbreviated version.
The former Mrs McManus is now called Red Wacky League Antlez Broke the Stereo Neon Tide Bring Back Honesty Coalition Feedback Hand of Aces Keep Going Captain Let's Pretend Lost State of Dance Paper Taxis Lunar Road Up Down Strange All and I Neon Sheep Eve Hornby Faye Bradley AJ Wilde Michael Rice Dion Watts Matthew Appleyard John Ashurst Lauren Swales Zoe Angus Jaspreet Singh Emma Matthews Nicola Brown Leanne Pickering Victoria Davies Rachel Burnside Gil Parker Freya Watson Alisha Watts James Pearson Jacob Sotheran Darley Beth Lowery Jasmine Hewitt Chloe Gibson Molly Farquhar Lewis Murphy Abbie Coulson Nick Davies Harvey Parker Kyran Williamson Michael Anderson Bethany Murray Sophie Hamilton Amy Wilkins Emma Simpson Liam Wales Jacob Bartram Alex Hooks Rebecca Miller Caitlin Miller Sean McCloskey Dominic Parker Abbey Sharpe Elena Larkin Rebecca Simpson Nick Dixon Abbie Farrelly Liam Grieves Casey Smith Liam Downing Ben Wignall Elizabeth Hann Danielle Walker Lauren Glen James Johnson Ben Ervine Kate Burton James Hudson Daniel Mayes Matthew Kitching Josh Bennett Evolution Dreams.
Superhero fantasy
Ms Dreams' charity Red Dreams supports young people who want to pursue creative careers like acting, singing or film-making.
In December 2011, two Nottingham men changed their names by Deed Poll to consist of 15 superhero names each.
They were among more than 100,000 people in Britain to change their names last year.
Daniel Knox-Hewson, 23, became Emperor Spiderman Gandalf Wolverine Skywalker Optimus Prime Goku Sonic Xavier Ryu Cloud Superman Heman Batman Thrash.
Kelvin Borbidge, 22, chose Baron Venom Balrog Sabretooth Vader Megatron Vegeta Robotnik Magneto Bison Sephiroth Lex Luthor Skeletor Joker Grind.
In November 2008, a teenager from Glastonbury, George Garratt, became Captain Fantastic Faster Than Superman Spiderman Batman Wolverine The Hulk And The Flash Combined.