Ex-Cleveland PC Sultan Alam wins £800,000 damages package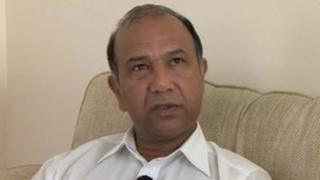 A former Cleveland policeman who was "stitched up" by fellow officers and wrongfully jailed has received more than £800,000 in compensation.
Sultan Alam, 48, had already received £400,000 in damages from Cleveland Police.
A hearing has now agreed a figure for loss of future earnings, bringing the total to £841,430
Cleveland Police said the force would seek to learn any lessons from the case.
Mr Alam was jailed for 18 months in 1996 for conspiracy to steal car parts, but was cleared in 2007.
After the case was overturned by the Court of Appeal he was reinstated by the force, but retired on health grounds in 2009.
A civil case against the force, which ended in January, heard that Mr Alam was "stitched up" by fellow officers after he launched industrial tribunal proceedings in 1993, complaining of racial discrimination.
Cleveland Police admitted malicious prosecution and was ordered to pay damages.
Leaving the latest hearing, at Leeds County Court, Mr Alam said: "It was never about the money."
'Lost my freedom'
"It's about the principle. It's about what's right."
He said the worst aspect was the effect it had on his family life.
His daughters were aged eight and six when he was convicted, and his marriage later broke down.
"I have had to endure years of shame and humiliation and a stain on my good name," he said.
"Not only did I lose my career, I lost my freedom, my family unit, my reputation and my health and much, much more."
Assistant Chief Constable Sean White said: "Cleveland Police note the conclusion today of Mr Alam's claim for compensation.
"The events under investigation occurred many years ago and their impropriety was recognised by the chief officer team by the early admission of liability made.
"The award of compensation to Mr Alam now draws a line under this matter and we will seek to learn any lessons from this case.
"Whilst we respect Mr Alam's views, we do not believe that the force is a racist organisation and we are working hard to ensure that everyone in the force upholds those views.
"There is no ongoing investigation or surveillance and the matter is concluded."