Middlesbrough binman receives resuscitation award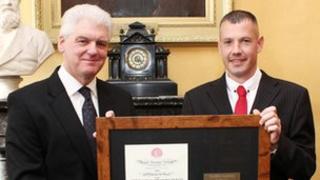 A Middlesbrough binman who saved the life of a toddler who had suffered a seizure has received an award.
Paul Thompson, 34, was on his regular route in June 2011 when Anne Tierney ran into the street holding her unconscious granddaughter, Farrah Appleby.
Mr Thompson saved the girl by performing first aid on her after putting her in the recovery position.
On Monday he received a certificate from mayor Ray Mallon at a ceremony held at Middlesbrough Town Hall.
Mr Thompson was presented with the Royal Humane Society Resuscitation Certificate, an award which recognises individuals who have successfully saved a life by giving the kiss of life.
He had only just taken a two-day first aid course with Middlesbrough Council before the incident.
'Thoroughly deserved'
Speaking to BBC Tees on Monday, he emphasised the importance of first aid training.
"If I hadn't have done that course then I wouldn't have saved the child's life, because I wouldn't have known what to do," Mr Thompson said.
He advised listeners to take similar courses and learn first aid techniques when possible, and added: "You don't expect things to happen and there's always that one time where somebody's going to need your help."
Mr Mallon said: "Paul kept his head, and acted quickly in a very difficult situation which could easily have had a tragic outcome.
"He almost certainly saved the little girl's life and he thoroughly deserves this recognition from the Royal Humane Society."