£31m Redcar leisure centre development begins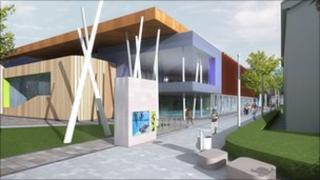 Work on a £31m leisure centre in the heart of Redcar has started.
The leisure, business and community centre will include a six-lane swimming pool, dance hall, gym, sports hall and space for community projects.
It is hoped the scheme, which will create 260 new jobs, will attract more residents and visitors to the town.
A sod-cutting ceremony on Friday will mark the start of development. Mayor of Redcar and Cleveland Council, Olwyn Peters said it was an "exciting time".
Businesses will also benefit from the development which will provide space for small to medium sized firms.
Mr Peters said: "The new leisure, business support and community facility in the heart of Redcar will create a real attraction for the town.
"I am delighted that work has started on site so we can provide state-of-the-art facilities for our residents and visitors."