Building work begins on £5m support centre on Teesside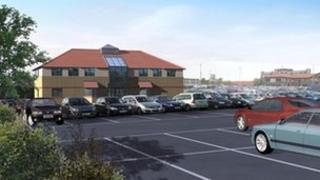 Work on a £5m support centre being built on Teesside has begun after five years of planning.
The centre for Butterwick Hospice in Stockton will provide a state-of-the-art family support and complementary therapies centre.
The building has been funded by grants and donations from members of the public, trusts and organisations.
Butterwick chief executive Graham Leggatt-Chidgey said it was "fantastic" building work was under way.
The centre will provide a range of services, including a children's bereavement service, family support services and therapies provision.
Mr Leggatt-Chidgey said: "To see the builders arrive on site is fantastic. It is the culmination of many years of sourcing help from many different foundations, trusts, funds and other organisations and individuals.
"This long awaited centre will provide much needed extra services for patients with life-limiting illnesses and their families and loved ones."
The centre will be built near Butterwick's adult and children's hospices next to North Tees Hospital. It will take six months to complete.