Volunteers plant 500 trees in Kendal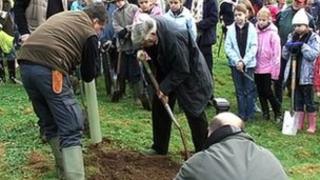 A new woodland has been planted on a prominent hill near Kendal by a Cumbrian conservation charity.
The Friends of the Lake District were joined by volunteers to put more than 500 saplings into the ground on the East side of The Helm.
The planting is on land bought by the charity in 2007 where they hope to add another 500 trees in each of the next two winters.
The new trees are a mix of oak, ash, hazel, rowan, hawthorn and blackthorn.