Hartlepool gets new state-of-the-art fire station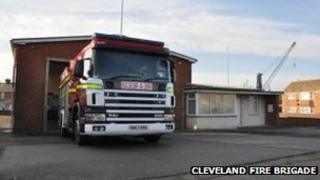 A new fire station is to be built in Hartlepool as part of a push to improve firefighting facilities.
Cleveland Fire Brigade said a new state-of-the-art retained fire station would be built at the existing Headland Fire Station on Durham Street.
The new station will replace the existing facility which is nearly 50 years old.
Chief Fire Officer Ian Hayton said it was "important" to continue investment in the fire brigade's future.
The new building will be designed to continue to house one fire appliance, along with a range of ancillary facilities.
'Financial pressures'
The brigade also plans to develop a community garden.
Mr Hayton said: "Despite the financial pressures facing the brigade, it is so important that we continue to invest for the future to ensure that we have facilities which are fit for the 21st Century.
"The Headland Fire Station is coming to the end of its working life which is why it is a high priority on our building replacement programme."
The fire station is one of six retained fire stations maintained by Cleveland Fire Brigade.
Retained firefighters only attend the fire station when they receive an emergency callout.
Work on the new building is expected to start early next year with completion by summer 2013.