Durham Police officers deny Peterlee police station assault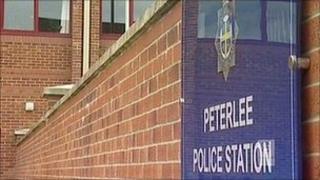 Custody staff at a County Durham police station assaulted an uncooperative prisoner when their "patience snapped", a court heard.
David Healer, 48, from Seaham, was taken to Peterlee police station on suspicion of breaching bail conditions.
Teesside Magistrates' Court heard Sgt Stephen Harvey, 50, and civilian detention officer Michael Mount, 61, used unlawful force during questioning.
The pair deny two counts of battery in the alleged incident last March.
The court was told Mr Healer, who has received treatment for angina, was forced to stand up, then had his arm forced behind his back by Sgt Harvey, causing him to shout out in agony, as Mr Mount held his other arm.
As he continued to refuse to answer the custody sergeant's questions, he was again grabbed painfully by both wrists across the custody suite desk by both defendants, the court heard.
'Minimal force'
In evidence, Mr Healer said: "All I remember is getting lifted up, I was lying face down, and having my arm forced up behind my back. I was in absolute terror and agony."
Mr Healer's screams of "Ahh! My shoulder" could be heard as CCTV footage from the custody suite was played to the court.
He had recently been treated in hospital for angina so needed his medication, he told magistrates.
Dan Cordey, prosecuting, said that what followed amounted to "criminal conduct", adding: "It may well be that patience snapped. It may well be that Mr Healer did not help himself at this stage."
The accused men both claim they used "minimal force".
Steven Crossley, defending Harvey, asked Mr Healer in cross-examination: "I'm going to suggest you were screaming for effect. You were exaggerating."
The witness replied: "No definitely not."
The trial continues.