New Middlehaven rehabilitation centre 'to create 100 jobs'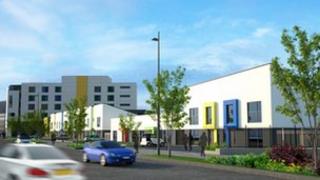 A new £10m rehabilitation centre in Middlesbrough will bring 100 jobs to Teesside, the firm behind it has said.
The Gateway will be built at Middlehaven by Whickham Villa LLP which specialises in providing neuro-rehabilitation services.
It said the 100 jobs would include nurses, support workers, therapists, clinicians and fitness experts.
Boda Gallon, of Whickham Villa LLP, said it would help "rehabilitation from serious brain and spinal injuries".
Glenys Marriott, independent chair of North East Neurosciences Network, said the centre was "something special".
She said: "We haven't got anything like this in the North East.
"The centre will help local people become more independent and empower people to restart their lives."
The family-owned company said The Gateway would support the NHS in terms of facilitating quicker discharge from hospital for patients and reducing long-term care costs by helping people live more independent lifestyles.
The main 40-bedroom facility will house an internal pool, gymnasium, therapy rooms, a cafe, a knowledge centre and other community facilities.
Mr Gallon said: "We are absolutely delighted that our plans have been approved so we can now begin building something that will hugely benefit people in their rehabilitation from serious brain and spinal injuries and support people in the community living with neurological and other long-term conditions.
"The creation of so many jobs from the project and the multi-million pound investment is also a fantastic boost for the local economy."