London 2012: Middlesbrough Transporter Bridge hosts torch relay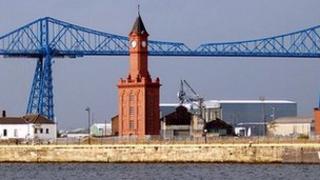 A landmark bridge which is celebrating its 100th birthday is to host the Olympic torch during its two-day journey through Teesside.
Middlesbrough's 225ft (69m) high Transporter Bridge - a symbol of the area's industrial heritage - will host the flame on 18 June, Locog has said.
At around 06:30 BST, the torch will travel across the bridge, through Middlesbrough and then head to Redcar.
After a trip along the Esplanade the flame will be carried to Marske.
Throughout the morning crowds will welcome it on its journey through Saltburn, Brotton, Loftus, Hinderwell, and finally on to Whitby.
Thousands of torchbearers have been recruited for the flame's 70-day journey across the UK before the opening ceremony in London.
Samantha Gould, 12, a pupil at Darlington School of Mathematics and Science, was nominated for the honour of carrying the torch by her teacher Kieran Thompson.
'Intelligent and diligent'
He said Samantha - who will be carrying the flame in Hartlepool - embodied everything the Olympics represented, including a love of sport and respect for other people.
He said: "Samantha is a pleasure to have in school. She is a diligent, organised and intelligent pupil who has a likeable character and has a good circle of friends.
"This is due to the fact she lives the Olympic and Paralympics values on a daily basis both in and out of school.
"She has respect from her peers and from members of staff and is always polite and keen to have a conversation."
He also said that Samantha was passionate about sport and had many strings to her bow.
He added: "She has represented the school in football and netball and over the forthcoming year she will represent the school in swimming, volleyball, cricket and athletics."
Keen runner
The day before arriving in Middlesbrough, the torch will travel through Hartlepool, passing by the town's Maritime Experience visitors' centre, a recreation of an 18th Century seaport.
It will then pass through Sedgefield, Bishop Auckland - including through the newly refurbished Market Place - and on to Billingham.
Crowds will later welcome its passage through Darlington and Stockton.
Michelle Brown, the service manager for My Sister's Place, a centre for the victims of domestic abuse in Middlesbrough, will be another torchbearer.
Ms Brown's work involves counselling and giving support to women in need of a refuge.
The keen runner, who has completed the Great North Run, said she was looking forward to the honour of carrying the torch.
The Olympic flame arrives in the UK on 18 May and begins its journey at Land's End on the morning of 19 May.
During the 10-week relay the torch will be carried by 8,000 torchbearers and will travel about 8,000 miles.
London 2012 organisers Locog say the torch will come within 10 miles of 95% of the population.