Middlesbrough breeds 'business champions'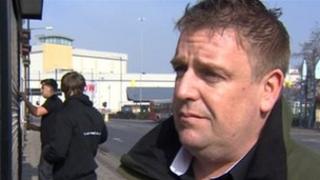 Middlesbrough has among the highest proportions of "business champions" in England which could drive economic growth, research suggests.
Research by information analysts Experian and commissioned by the BBC looked at growth and growth potential.
It comes after a 2010 Experian report found the town was the English council least resilient to economic shocks.
But unions questioned whether business champions could mitigate the impact of public sector job losses.
Business champions were those judged as displaying characteristics which could lead to significant growth in the future.
'Absolute whirlwind'
These included companies less than 10 years old and with fewer than 50 employees, firms with directors with entrepreneurial appetite and a firm being part of a wider corporate network.
About 540 companies out of 3,942 in Middlesbrough fell into this category, the research found.
The north-east of England was the region ranked the highest in terms of business champions.
One of those identified as a business champion was Shutter Media, in Middlesbrough, which makes advertisements for shop shutters.
Steve Hale, the company's managing director, said it was fantastic news to be identified as a business champion.
He said the last 18 months had been an "absolute whirlwind" and they were now looking to expand the product to other countries.
He said they had five staff at the moment but could easily grow by 10 in the next 12 months but investment was crucial to allow them to meet their potential.
Mr Hale said: "I think the biggest thing we probably need is cash. We need help from the government on the capital side of things to grow the business by bringing in more machinery and more employees to work that machinery."
Unison area organiser Gill Toward said she welcomed any job opportunities in the area but the private sector was not creating enough jobs to offset public sector losses.
She said: "I think there have been so many job losses in the public sector over the last couple of years and that is only set to increase.
"We are expecting more and more job losses right across the Tees Valley.
"I don't think with these small business champions there are going to be enough jobs created to mitigate the losses from the public sector."
Economists said the North East had a smaller business base which means it would statistically have a higher proportion of these champion businesses than other parts of Britain.
Middlesbrough also had one of the highest business start-up rates in England at 8.6% between 2008 and 2012.
Redcar and Cleveland had one of the highest insolvency rates in the country at 2.2%, beaten only by Slough, Sandwell and Redditch.
It equated to approximately 98 companies going bust out of 4,466 in 2011.
But Redcar also had one of the highest business start up rates between 2010 and 2012 at 6.6% creating about 295 companies.
BBC Five Live's Victoria Derbyshire is joined by an audience from across the North East and Cumbria on Monday to find out how the economic crisis has affected this region.
Our Economy - the BBC Look North Debate at 23:05 GMT on Monday on BBC One.