Darlington council to cut jobs and close arts centre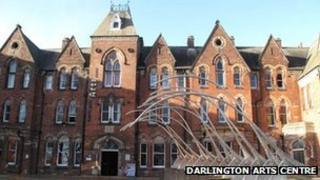 The closure of an arts centre, 115 job losses and scrapping of transport for faith schools are among a series of cuts agreed by Darlington councillors.
As part of the £11m cuts, there will also changes to library opening hours.
The Labour-led authority is to close Darlington Arts Centre in July and put the building up for sale.
However, after concerns were raised during a public consultation exercise, a proposed volunteer scheme for school crossing patrols has been dropped.
Darlington Arts Centre is currently used by youth groups, comedy clubs, craft classes and dance groups.
Darlington for Culture, which has campaigned against its closure, said it was "gutted" it would be going ahead.
However, Darlington Council said that so long as the building remained in council ownership there would be an annual cost of about £40,000 for insurance, security and maintenance.