Darlington Arts Centre to shut after council stops subsidy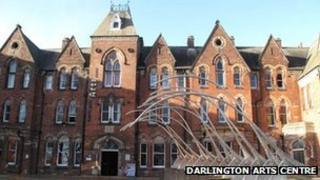 Darlington Arts Centre is set to close this summer after councillor's voted to withdraw its subsidy.
Darlington Borough Council said it was a "difficult decision", but it could no longer pay the £500,000 a year subsidy.
The centre, on Vane Terrace, will close in July and be put up for sale. Money from the sale will be ring fenced and put back into arts funding in the area.
Darlington for Culture (DfC), which has fought to keep the centre open, said it was "deeply saddened" at the decision.
The decision was made following a cabinet meeting on Wednesday night.
DfC is now appealing for people in the area to contact their local councillor to urge them to vote against the plans, which will be finalised on 1 March at a full council meeting.
Councillor Nick Wallis said: "It was a really tough night for the local authority and indeed for Darlington and it is a tough decision.
"Unfortunately leisure and cultural services is an area we have had to take a hit.
"The closure of the arts centre will be a major loss for Darlington. It is a decision we took last night with a very heavy heart."
The council is facing cuts of more than £21m over the next three years.
'Cried or smiled'
The centre, which was opened by the council in the 1970s, is used by youth groups, comedy clubs, craft classes and dance groups.
Nick Brewster, chairman of DfC, said: "We urge anyone who has ever laughed or danced or sang or cried or smiled in the arts centre to contact their local councillor to ask them whether they will be voting to close or save this extraordinary building.
"...we are ready, willing and able to work with the council to find a viable way forward for the Arts Centre. We need one big push to persuade Darlington councillors that this is the right thing to do.
"It does look like this is the end of the line for the arts centre but we feel that with imagination, scaled down activities and a plan for development it really does not need to be."