Redcar helmsman Mike Picknett receives RNLI honour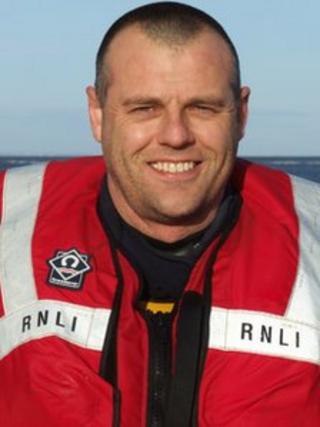 The helmsman of a Teesside lifeboat, who risked his life rescuing an angler from treacherous seas, has received one of the RNLI's highest honours.
Mike Picknett, 43, was given the Thanks of the Institution inscribed on Vellum for his part in the rescue of Keith Ellerby last October.
Mr Ellerby was swept into the sea off Redcar's South Gare.
Mr Picknett manoeuvred the lifeboat so the crew could get Mr Ellerby aboard. Mr Ellerby later died in hospital.
Sarah Nimmo-Scott, RNLI deputy divisional inspector, said: "The casualty was close to the breakwater and, with a force 6 easterly wind and swell of three to four metres, there was a real risk the lifeboat would be dashed against it.
"However, thanks to great seamanship and judgement, Mike Picknett was able to manoeuvre the lifeboat alongside the casualty at the first attempt so the crew could grab the man and get him onboard.
"As the lifeboat headed for calmer waters, fellow crewmen began CPR on the man and continued for some time, fitting an airway to help him breathe.
"The casualty was transferred to a rescue helicopter and taken to hospital, where sadly he died later."
Mr Picknett said: "The casualty was very close to the gare itself, which is a concrete structure. We had to turn into the wind to get to him which meant we had waves breaking through the lifeboat.
"I knew from experience that conditions in that area would be very awkward."
The award ceremony took place at Redcar Lifeboat Station.