London 2012: Middlesbrough's Intro Festival cancelled due to council cuts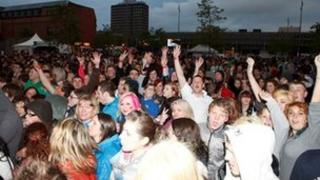 A music festival in Middlesbrough has been cancelled this year due to council budget cuts.
Last year's Intro Festival, previously known as Middlesbrough Music Live, cost Middlesbrough Council £195,000.
But with the council's budget being cut by about £14m for 2012/13, it has decided not to run the event.
The council said the town would focus its efforts and resources on the London 2012 Olympics celebrations and the Queen's Diamond Jubilee, instead.
The arts and events team said they would provide a programme of entertainment throughout the year, including an Olympic torch relay evening event which would also feature music.
Councillor Charlie Rooney said: "The Diamond Jubilee and the London Olympics are once in a lifetime events, so it's only right that this year we should concentrate our efforts and resources on the important roles we have to play in them.
"It's no secret that, with the council facing so many government cuts, we have to look at everything we do, so it's also a good opportunity to take a break, take stock and plan for the future."
In the past the festival has attracted crowds of 60,000 and has seen acts such as the Kaiser Chiefs, Razorlight and The Zutons perform since it started in 2000.
The council said a decision on the festival's future would be taken in due course.