The sign language of the Redcar blast furnacemen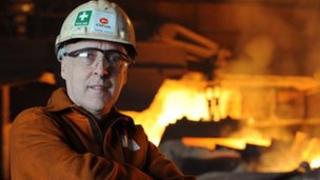 At the age of 54, Dave Cocks had been working in the steel industry for 31 years, as a technology manager.
He described his role as being like a vet, saying "blast furnaces have a mind of their own, you had to work out what was wrong with the beast".
He led the team that mothballed the Corus blast furnace, in Redcar, in 2010, and then returned to help a new team take on the SSI blast furnace, as it has been re-named.
Having now left the industry ahead of the planned resumption of steel-making at the plant in March, Mr Cocks describes his life working in a furnace as being part of a brotherhood, one where they even made up their own sign language.
'Out of necessity'
"It was really loud in the furnace, so we adapted our own simple sign language to operate equipment, and extra bits to help talk to the lads," he said.
"You'd have a signal for tea break, one for going for a pint after work, and you'd tell the time by say putting up three fingers, slapping your backside for past and then drawing a line across your body to say half-past-three.
"It came out of necessity, the old hands would even use football whistles to give instructions - one peep of this, two for that, then we adapted from that.
"We'd pass it down, add bits in, explain it to the new generations.
"There was a real hierarchy and you learnt from your elders, and you respected the old hands. And yeah, some of it was a bit rude... but I won't tell you about that."
Not being able to communicate with your fellow workers would usually make it hard to create a bond, but due to the dangerous aspect of the job, the workers in the blast furnace had to work together and it built team spirit.
'Iron in our blood'
Mr Cocks said: "Without making it sound like Hades, the blast furnace was quite an aggressive dangerous environment to work in, this is before the health and safety act - it was a temperamental and unpredictable place.
"I've been lucky enough to travel to other blast furnaces and there is a fraternity across the business.
"You share problems, secrets, and successes. It's very up front and honest, like 'You think that's a problem, let me tell you about this' kind of thing. Like a brotherhood.
"There's a saying we use, 'We're all born with iron in our blood, and some of us get addicted to it', people are proud to call themselves a blast furnaceman, you're proud to be an iron maker."