Katrice Lee's family demands missing child's case files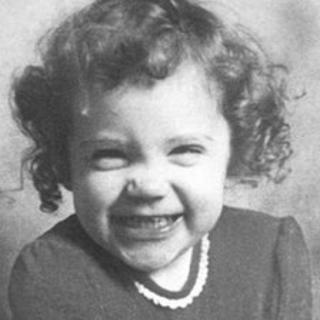 The family of a Teesside toddler who disappeared in Germany 30 years ago are demanding to see case files held by the Royal Military Police (RMP).
Katrice Lee vanished on her second birthday from a shop at the military base at Paderborn, where her father was stationed.
Her father, Richard Lee, criticised the investigation and said the RMP were "as good as the Keystone Cops".
The RMP is refusing to release the files but is re-examining the case.
Katrice went missing in a NAAFI shop while out with her mother Sharon, who does not believe the original theory about what happened is possible.
She said: "The German police said that she'd wandered out of a busy NAAFI that morning, past a load of shoppers, down the ramp, past the ticket seller, across this car park, through that hedge... walk to the river's edge, throw herself in - and not a soul saw her do it.
"It's just ludicrous. It's absolutely ridiculous.
"What upsets me even more was the Military Police pursued that theory above all others."
'Plagued by incompetence'
Mrs Lee's MP, Caroline Dinenage, has asked the defence minister, Andrew Robathan, to help the family see the documents.
She added: "Unlike the tragic disappearance of Madeleine McCann, Katrice's case has received little attention and even less support.
"The investigation was seemingly plagued by incompetence, while the family were treated with a shocking lack of sympathy and sensitivity by those handling the case."
Mr Lee, now living back in Hartlepool, believes the RMP did not follow all possible leads.
He said that, when he pointed out his daughter had a squint that would require surgery, and that hospitals and doctors should be warned to look out for Katrice, he was ignored.
He said: "I think that not only has Katrice been failed, we've been failed as a family. On many occasions we got a pat on the head and were more or less told to go away."
Both Mr and Mrs Lee believe their daughter is still alive and that she was abducted.
They are now demanding to know why the RMP will not release the case files.
A Ministry Of Defence spokesman said: "The RMP does not routinely disclose information in relation to ongoing investigations. Should a new line of inquiry develop, disclosure of the case files could have a prejudicial effect on the investigation and potentially prejudice the right to a fair trial.
"The RMP is also obliged to protect personal data and information given to the RMP in confidence."
Mr Lee said: "It's like being in a time warp. If your child goes missing in a supermarket your heart is in your mouth. Well, our hearts have been in our mouths for 30 years."