Women break Durham freeman 700-year tradition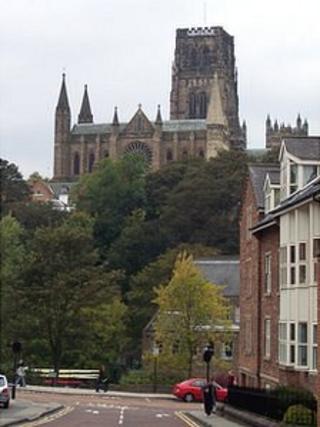 Four sisters are among those breaking down the barriers of a male preserve that has survived for 700 years.
The quartet, and two of their daughters, are due to be sworn in as the first female members of the City of Durham Freemen's ancient craft guilds.
They will be followed by 11 others, including a 19-year-old, at the ceremony at Durham Town Hall later.
It comes after the city's freemen backed proposals to amend admissions criteria to give equal rights to women.
The city's guilds and companies are believed to date back to 1327.
Members maintain a number of ancient privileges, including the right to graze livestock, and hold a fair, on the Sands area of the city.
The sisters, Barbara Charney, from Darlington; Laura Provett, from Sedgefield; Karen Crawford from Crook; and Sandra Heslop from Spennymoor; will follow their late father, all of their husbands, and their brother into the Curriers' Company.
'Extremely humbling'
Mrs Crawford said: "There was no hesitation on our part when the opportunity presented itself.
"It is something we value and respect and feel honoured and proud to be among the first women freemen to be sworn in."
Another woman at the public inauguration is Church of England vicar, the Rev Mrs Dorothy Snowball from Tyneside, who follows her grandfather, father and brother into the Drapers' Company.
She said: "Durham is very close to my heart, so to have this honour is extremely exciting and extremely humbling.
"You can be acknowledged as part of that community, and part of the history of that great city."