Bishop of Durham backs Darlington youth jobs drive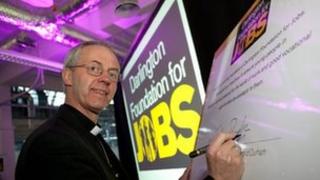 The Bishop of Durham is backing a scheme to create dozens of new jobs and apprenticeships for young people in the Darlington area.
Darlington Foundation for Jobs will run in 2012 and its target is to give young people a better chance of finding work.
The initiative aims to develop more effective links between schools, colleges, universities and employers.
The Rt Rev Justin Welby said it was very important and had the potential to transform lives.
"This is something I feel passionately about. It is of huge importance and has the potential to transform a very, very large number of lives," he said.
He acknowledged that businesses needed to deal with the current economic crisis but they also needed to plan how they would emerge from it and recognise the issue of youth unemployment.
The bishop is patron of the initiative, which is supported by Darlington Partnership, The Northern Echo and Darlington Borough Council.