Harperley PoW camp owners' hope for investor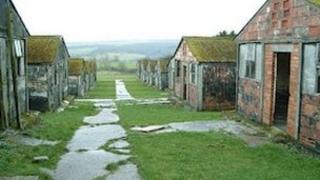 When foot-and-mouth disease wiped out their herd of pedigree Highland cattle, Lisa and James McLeod decided it was time to turn their hands to something completely different.
A nearby former World War II prisoner of war camp, with 49 derelict huts and 20 acres of land, was up for sale in County Durham.
Mr McLeod, 42, who also runs a fencing supply firm, decided the camp was the perfect location for his business.
So in 2001 the couple used £400,000 from the sale of their 80-acre farm to buy Harperley PoW camp.
But 10 years down the line, and having poured almost £1m into turning the camp into a tourist attraction, the site has been mothballed and left almost derelict once again.
Money from the sale of their farm and other work was ploughed into the couple's fledging business which became a labour of love as they delved into the history of the site and began painstakingly trying to return it to its former state.
During World War II, the camp housed hundreds of German and Italian prisoners and to pass the time they would put on plays to entertain the locals.
"It was basically like Butlins," Mr McLeod said.
The homesick prisoners would often paint scenes from the German countryside and some of the 70-year-old murals still adorn the walls.
When they were not running their fencing business, Mr and Mrs McLeod spent all their spare time patching up the decaying huts by replacing windows and strengthening their wooden fabric.
In 2004 the camp was awarded £200,000 from Defra and opened as a tourist attraction.
At the height of its popularity it was taking £60,000 a week and had regular attractions like a traditional German Christmas market and camp tours.
But by 2007, just as the recession was beginning, visitor numbers tailed off and the couple ran out of money and had to mothball the camp.
Today many of the huts are crumbling with huge holes ripped through the walls, caused by the recent high winds.
Mrs McLeod said: "I feel really sad about the camp, as besides investing a lot of money into it we did a lot of the building and design work ourselves.
"To see it over-grown with weeds and looking neglected again is such a shame.
"I only hope that an investor will be able to reopen the camp and build on what we started."
Mr McLeod still has hopes of finding an investor as he thinks the camp "has great potential".
English Heritage is currently spending £500,000 carrying out repairs at the site.