Canoeist fraudster John Darwin's home on importance shortlist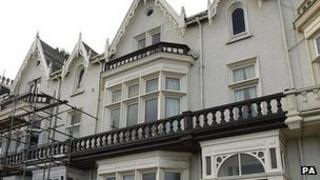 The home that back-from-the-dead canoeist John Darwin hid himself in is on a shortlist of important places.
Numbers 3 and 4 The Cliff, in Seaton Carew, made the list after Hartlepool Council asked the public to nominate their favourite local landmarks.
It said however, the homes, that Darwin shared with wife Anne, were nominated because of their architecture not because of the link to the couple.
The five-house terrace is among 265 places put forward on the list.
Other places that have been nominated include a 1903 lamppost and a bus shelter built to mark the 1937 Coronation.
Sons duped
A decision will be made by an independent panel on Friday.
Those chosen will not have graded listing status, but will be given extra protection when it comes to planning decisions.
John Darwin disappeared in 2002 in what was then believed to be a canoeing accident.
However, aided by his wife he had been hiding in his former home while the pair claimed insurance and pension pay-outs. Even the couple's own sons were convinced he was dead.
The story unravelled when he reappeared in 2007, claiming he had lost his memory, and following a trail the pair were later jailed.
The Staincliffe Hotel, which is part of the same terrace as the house where the Darwins lived, now has a Canoe Room and a Darwin Room.