Darlington 'days' from closure, MP Jenny Chapman says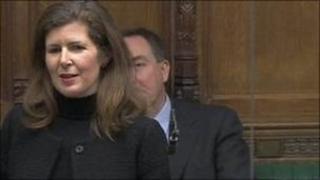 Darlington Football Club could be out of business in "days" unless they find new owners, an MP has told the House of Commons.
The Labour MP for Darlington Jenny Chapman, said that the club could go into liquidation in "days, if not hours" if it does not receive help.
The Blue Square Premier side went into administration on 3 January.
Joint administrator, Harvey Madden, said "every day is critical if the club is to survive".
It is the third time in nine years they have gone into administration.
'Cease to trade'
Ms Chapman said: "Darlington Football Club is 128-years-old and as the leader of the house knows, it is the club that gave the world's first black professional footballer Arthur Wharton, his big break.
"Sadly, despite the best efforts of local businesses, The Northern Echo and the council, the club's in administration and has days, if not hours, before liquidation."
The Leader of the Commons, Sir George Young, said he would raise the matter with the Culture Secretary Jeremy Hunt.
He said: "I will draw her concerns... without raising her hopes, to see if there is any role for the government to play in enabling this club to continue."
Administrators say the Quakers could be out of business in days unless they find new owners.
Mr Madden added: "The position of the club is such that without any financial support from outside the club, or anyone willing to acquire the club, I will, unfortunately, have little alternative but to cease to trade in a very short time."
Darlington Football Club Rescue Group has been formed by supporters and former club members to work with potential new owners.