Former Stockton MP Frank Cook dies age 76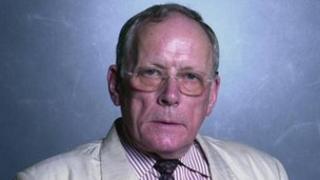 Frank Cook, who served as the MP for the Stockton North constituency for 27 years, has died at the age of 76.
Mr Cook, who was diagnosed with lung cancer early last year, died in North Tees Hospital.
He won the Stockton North seat for Labour in 1983, and played a key role in the fight against plans to store nuclear waste in mines at Billingham.
He leaves a wife and four children, eight grandchildren and two great grandchildren from his first marriage.
Before becoming an MP Mr Cook had a varied career, ranging from a transport manager and construction engineer to a grave-digger, Butlins Redcoat and special needs teacher.
His other campaigns included backing plans for a new hospital at Wynyard, opposing moves to merge Cleveland police into a regional force, supporting Durham Tees Valley Airport, fighting to save the Sea Dragon oil rig construction project at Haverton Hill and working to secure the removal of the decaying former minesweeper Kellington from Stockton Riverside.
'Nuclear dump'
Mr Cook was the founder chairman of the All-Party Landmines Eradication Group in Parliament.
He gained international recognition for his expertise on defence matters, holding many key roles with the NATO Parliamentary Assembly, including serving as its vice-president and rapporteur general.
Current Stockton North Labour MP Alex Cunningham said: "Frank Cook represented our community for nearly three decades as a Labour MP and I'm saddened to hear he has died so soon after leaving Parliament.
"I'll best remember him for his early years when he led campaigns like the one to ban the nuclear dump planned for Billingham and his uncompromising championing of ordinary people and the issues that affected their lives."
Former Redcar MP Vera Baird added: "I enjoyed working with Frank when he was an MP. He always had an interesting angle on issues and was friendly, supportive and humorous to know.
"His loss is that of a politician of character and my sympathies are with his wife and family."