Appeal for Middlesbrough railway line vandals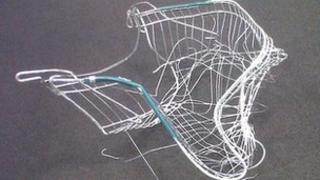 Police are appealing for information after a train struck a shopping trolley believed to have been "deliberately" placed on a rail line in Middlesbrough.
The empty train was travelling about 50mph when it struck the trolley between Crossfell Road and Belle Vue Grove at 07:00 GMT on Tuesday.
No-one was hurt, but the passenger train's braking system was damaged.
PC Gary Sykes, from the British Transport Police, said the incident could have caused "dire consequences".
The police are now investigating who threw the trolley onto the line, which they believe happened between 20:30 GMT on Monday and 07:00 on Tuesday.
The incident caused major delays for many passengers.
PC Sykes said: "This mindless act of vandalism could have been a lot worse, causing injuries or even worse. Luckily this was not carrying any passengers at the time, although the driver could have been seriously hurt.
"Although this may seem like fun to those who continue to play, what they don't realise are the dangerous implications of this.
"Behaviour like this is incredibly risky and can result in dire consequences. The railway is an extremely dangerous environment that should never be considered as somewhere to hang out."
The train has been taken out of service for inspection.