Freed battery hens in Bishop Auckland need new homes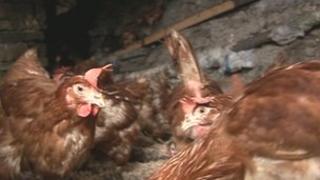 An animal sanctuary in Bishop Auckland is appealing for help after being swamped with hundreds of hens released from their battery cages.
The Farplace Animal Rescue centre in Sideplace, Westgate, has taken delivery of 250 chickens after old-style battery farms were recently made illegal.
The birds were facing slaughter, but now sanctuary volunteer Gareth Edwards is trying to re-home them as pets.
He said prospective hen owners would need "understanding neighbours".
"They are a very different pet to have - they are low maintenance, they feather up nicely, get to a nice weight and do have a character," said Mr Edwards.
"They can also live to about six or seven."
Mr Edwards recommends that those new to hen-keeping should take on no more than three to five birds.
He said: "As long as people are able to guarantee a home for life and they will keep these chickens as pets we are happy to rehome small groups.
"They needed good shelter, natural light and an owner with lots of patience.
"But it is really only best if you have understanding neighbours or live in a very rural area."