Crumbling Harperley PoW camp gets £500,000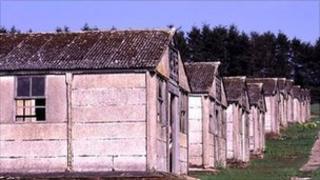 A former World War II prisoner of war camp is to undergo repairs thanks to a donation of £500,000.
English Heritage is spending the money on the canteen and theatre at Harperley camp near Crook, County Durham.
Two years ago the camp's owners put it up for sale on eBay for £900,000, but did not receive a single bid.
Now English Heritage is hoping to save the camp and will carry out repairs at the site over two years. It is hoped it will become a tourist attraction.
Owners James and Lisa McLeod bought the site in 2000 for their farming business.
They had hoped its 49 huts would become a tourist attraction and spent £1m on the venture, but ran out of money.
'Bleak remoteness'
The camp housed hundreds of German and Italian prisoners during WWII and won ancient monument status in 2002.
The site also has a theatre which was built by the former inmates.
In 2009, it missed out on a £2m windfall when it was featured on the BBC's Restoration programme, but failed to gain enough public votes.
A spokesman for English Heritage said: "The canteen was the main communal building and was decorated by the inmates who painted idealised scenes of the German countryside on the walls.
"From paintings of forested mountain ranges to grazing stags, the prisoners used these areas of the camp to remind them of home."
Architect Ptolemy Dean said: "The challenge that faces us is how best to preserve the physical fabric of what are essentially low-cost, short-life huts.
"A wider challenge is how the site overall will be conserved, with its melancholy, decay and bleak remoteness."