Christmas Day Redcar lifeboat death remembered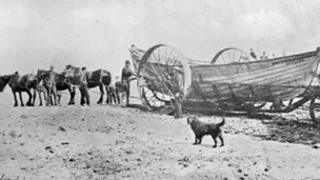 The sacrifice made by a Teesside lifeboat crew member, who died during a Christmas Day rescue 175 years ago, is being remembered.
William Guy, 41, was on the Zetland lifeboat, which was called out from Redcar to rescue the crew of a stricken Danish ship on 25 December 1836.
He was swept overboard by a wave and his body was found 17 days later.
Present members of the Redcar RNLI crew said his sacrifice was still remembered.
In May a plaque was unveiled in St Peter's Church, Redcar, to commemorate his death and a grave marker was laid in the churchyard.
The Danish ship Caroline was sailing from the Tyne carrying coal when a storm struck as it passed through Coatham Bay.
The crew of 10 boarded the ship's boats to escape before it sank.
The Zetland was launched carrying a crew of 22 and managed to come close to one of the boats.
'Ultimate sacrifice'
Mr Guy was bowman and as he tried to throw a line to the crew was hit by a wave.
All the Caroline's crew were lost too.
Dave Cocks, of Redcar RNLI, said: "William Guy made the ultimate sacrifice that Christmas Day.
"Contemporary reports suggest that at the time the lifeboat crew were summonsed, he was celebrating Christmas in the local Methodist chapel.
"There is even a story that, on his way out of the church, he handed over his favourite pocket watch for safe-keeping until his return."
Redcar RNLI senior helmsman Mike Picknett said the equipment and training used now was unrecognisable to what the Zetland's crew had.
He said: "But the one thing that has been constant in the RNLI from the time of William Guy to today is the courage and sacrifice the charity's volunteers make, day in, day out.
"Even on Christmas Day, if the call comes, they will leave everything behind to launch the lifeboat."
The Zetland is the world's oldest surviving lifeboat and is on display in a museum in the town.