County Durham pavilion awarded Grade II-listed status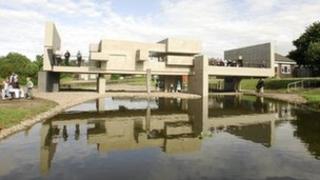 A piece of public art in County Durham has been awarded Grade II*-listed status by English Heritage.
Victor Pasmore's Apollo Pavilion, in the Sunny Blunts estate in Peterlee, was opened in 1969.
The concrete structure, named after the first moon landings, was described as an iconic example of 1960s public art but has always divided opinion.
Durham councillor Neil Foster said it was time for people to "take pride in their pavilion".
The artwork, which is owned by Durham County Council, joins other listed buildings and structures in Durham, including Beamish Hall, Lambton Castle, Dalton Pumping Station, Kingsgate Bridge and Witton Castle.
Mr Foster said: "Modern art and architecture often divides public opinion, as is true in the case of the pavilion.
"However, every period produces masterpieces, iconic examples of the style, and the listing is an acknowledgement that the pavilion fits squarely into this category.
"The journey from its infamous past to the growing level of recognition it has now attained is on many levels a remarkable one."
The listed status was applied for by the Apollo Pavilion Community Association (APCA) with help from members of The Twentieth Century Society.
'Icon of our town'
APCA works with the council to ensure the pavilion is used as a community hub for arts, education, culture and heritage events.
Work to restore the pavilion was carried out in 2009.
David Taylor-Gooby from APCA, said: "This really is a great achievement for everybody who worked tirelessly to help secure the Pavilion's restoration but also a proud moment in the recent history of Peterlee as a town.
"We now have something which has achieved national recognition, and which we should celebrate.
"The pavilion is not some obscure artefact but something we should be proud of as it is an icon of our town."