Call for talks to keep Zurbaran paintings at Auckland Castle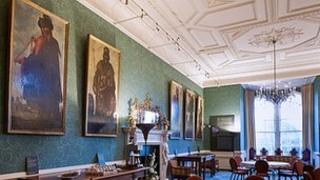 Council bosses have called for renewed talks over the future of a collection of 17th Century paintings hanging in the home of the Bishop of Durham.
It was hoped 12 works by Spanish artist Francisco Zurbaran would stay at Auckland Castle after a £15m donation by investment banker Jonathan Ruffer.
But after a row with Church Commissioners, who own the works, Mr Ruffer stopped the deal.
Now Durham County Council has joined calls for talks to revive the deal.
Church Commissioners said the paintings would have to be sold to allow it to fund the work of the Church in the North East.
'Significant contribution'
Mr Ruffer gifted the cash to a campaign to keep the works in County Durham and also pledged to turn Auckland Castle into a major tourist attraction.
But he withdrew his offer after claiming conditions had been put on the deal by the commissioners.
Durham County Council has now urged the two sides to resolve their differences.
Council leader Simon Henig said: "The value the paintings and castle can play in the continued growth of culture-based regeneration in County Durham should not be underestimated.
"As a council we will do everything possible to continue the partnership discussions, which it is hoped will see the Zurbarans and Auckland Castle make significant contributions to the county's economy.
"In addition, as the relevant planning authority, we maintain our view that the paintings form part of the listed status of the castle."