Canoe man John Darwin owes '£700,000'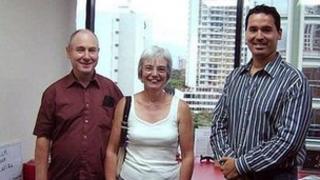 Back-from-the-dead canoeist John Darwin has denied newspaper reports he has a secret stash of money, saying he actually has debts of £700,000.
Darwin and his wife Anne were jailed in 2008 for making false insurance claims after faking his death.
She said he died in an accident in 2002 off the coast of Seaton Carew, Teesside - but he actually lived in a bedsit adjoining their house for years.
He says he has lost everything as a result of the fraud.
A photograph of Darwins taken in the Central American country of Panama emerged several years after his "death".
'Two pensions'
He returned to England claiming he was suffering from amnesia but was arrested, charged and jailed for six years and three months in July 2008 after admitting deception. He was released from prison earlier this year.
Speaking about the fraud which captured a nation's imagination, Darwin said: "Of course I regret doing the crime. I regret actually coming back.
"Coming back I've lost everything: I've lost the person I was in love with, I've lost any sort of hope that I can have a comfortable retirement - I did have two pensions, they've been taken off me.
"Instead of paying the insurance back, the courts wanted every penny that we had.
"The papers say that we still have stashes of money here there and everywhere. We don't.
"I owed £700,000, I still owe £700,000."
'Love and hate'
Darwin explained how the journey back to England from Panama was "nerve-wracking".
"I had to ask the police to find my relations, I made up a story that I had amnesia.
"I made it up so that I could see my sons for a few days. I knew I would be arrested, I knew I would end up with a jail sentence."
Anne Darwin was also jailed, receiving a longer sentence - six-and-a-half years - than her husband after denying fraud.
And although they have now both been freed from prison, the Darwins are no longer together.
However Darwin, who is once again living in Teesside, said his feelings towards his wife were far from straightforward.
"If you've been with someone for an awful long time, you can't simply say 'I don't like you'.
"I do love her, and I hate her. It's a see-saw."