Middlesbrough councillor 'concerned' about Cleveland Police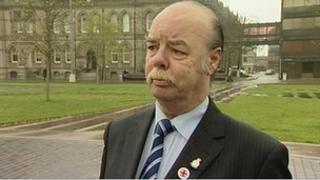 A Middlesbrough councillor has questioned whether a rise in crime in Cleveland is linked to the suspension of the force's chief constable.
Sean Price and his deputy Derek Bonnard were arrested in August on suspicion of fraud and corruption.
Pete Cox said he was worried about the crime rise and asked if officers were concentrating on the investigation.
Cleveland Police said they were "absolutely not concentrating more on the investigation than fighting crime".
Warwickshire Police is currently investigating both Mr Price and Mr Bonnard, who are suspended from the force.
'Very worried'
Mr Cox said: "It's definitely a concern for people.
"Are the police concentrating more on what's happening with Sean Price, the chief constable, rather than what's happening on the streets?
"And the crime figures - people are very worried about it."
Crime has risen over the past six months by 1.3% - the first rise in the force area in the past six years.
Public confidence remains high, however, with 87% of people either "very" or "fairly" confident in the force.
Police authority chairman Peter Race said: "We are certainly not complacent about the challenges which we are tackling as an authority and force in maintaining the remarkable progress we have made in recent years at a time when we are facing major challenges on many fronts.
"However, what has to be made clear is that those challenges are not unique to Cleveland and many other forces are facing increases in offences... which are inevitably affected by the very difficult economic climate which, of course, particularly affects regions such as the North East."