Darlington Arts Centre could close among budget cuts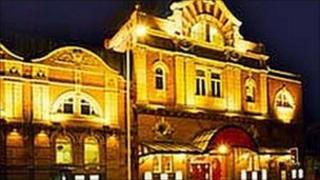 Darlington Council plans to make 155 redundancies, shut the town's Arts Centre and remove bus subsidies.
The council has set out proposals to reduce spending by £10.8m.
An initial proposal to shut the town's Civic Theatre has now been scrapped but it will instead receive a much-reduced council subsidy.
A series of consultation events for people to share their views will be held before a final decision is made next year.
The Labour-run council said the proposals were needed following a 25% cut in government grants.
Arts Centre fight
Among the other proposals are a 3.5% rise in council tax, freezing council workers' pay for three years and introducing three days of unpaid leave.
The proposal to close the Arts Centre would involve selling it and using the proceeds to invest in a new performance venue.
Darlington for Culture (DfC) said it was shocked at plans to close the Arts Centre and had been interested in taking over its running. It said it would fight to keep it open.
DfC chairman Nick Brewster said: "Unfortunately, it is becoming increasingly clear that this council does not value the arts, despite the importance that they play in the life and economy of the town.
"The council will not support DfC taking over the management of the Arts Centre and would rather see the building closed to Darlington residents."
Others plans include the removal of subsidies for Shopmobility and the removal of education transport subsidies for some pupils and students.
Unison Darlington branch secretary Joe White said it would be discussing the proposals with its members.