Durham Tees Valley Airport claims border checks 'are appropriate'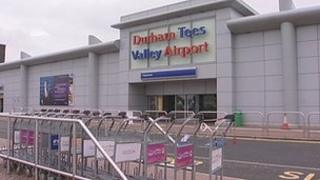 An airport at the centre of fears over a lack of border checks claims all passengers are properly monitored.
Leaked emails suggested some Border Agency staff were concerned passengers on private jets were not properly handled at Durham Tees Valley Airport.
The news came as the government said a pilot scheme of reduced border checks was used at 28 ports and airports.
But Durham Tees Valley said all incoming passengers underwent "appropriate checks".
The leaked documents appeared to showed passengers on private jets were able to enter Durham Tees Valley without being seen by border officials, raising fears among staff that security was being compromised.
In the emails, one UK Border Agency official complained to managers about not even being "allowed to physically see the passengers", saying it was "at odds with national policy".
They said it was "creating an unnecessary gap in border security".
'Detailed information'
But airport manager Shaun Woods said: "I want people to know that any suggestion passengers or crew could pass through the airport without undergoing the appropriate checks required by the UK Border Agency is plain wrong.
"The Border Agency does have arrangements in place which allow for what are known as general aviation activities - basically private flights - to seek pre-arrival checks for crew and passengers in certain circumstances.
"This requires detailed information to be provided well in advance of a flight arriving at the airport, including the name, nationality, date of birth and passport or national identity card details.
"This can only be applied to passengers or crew from the European Union or European Economic Area.
"Any passengers or crew from countries outside the EU or EEA must undergo standard arrival checks and the Border Agency has the discretion at any time to require any or all passengers and crew to undergo standard checks."