Redcar volunteers in 360-minute garden challenge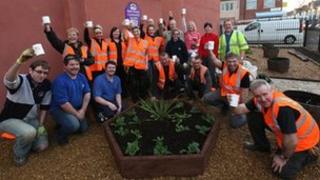 A group of volunteers in Redcar have taken part in a 360-minute challenge to transform a patch of wasteland into a community garden.
The team of 17 had just six hours to create the garden, installing new planters, shrubs, flowers and paving.
Local residents, traders and the South Bank Tomorrow community group joined forces with Redcar & Cleveland Borough Council for the challenge.
The garden at South Bank, is near a £3.5m eco village with 26 new homes.
Lynn Pallister, from Redcar & Cleveland Borough Council, said: "This team challenge is a fantastic way of highlighting the determination of everybody involved in the regeneration of South Bank to bring about improvements.
"With the eco village taking shape and the dedicated South Bank Tomorrow group carrying out its work, these are really exciting times for the community."
South Bank Tomorrow has already carried out other environmental improvements to King George Square, the Millennium Green and the Oliver Street Community Garden.
The site was previously home to 40 King Street before the property was demolished.