Middlesbrough's Middlehaven dock revamp put on hold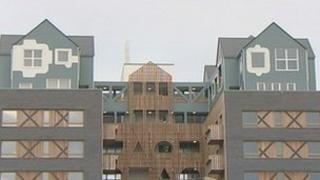 Work on a £200m revamp of a rundown dockside area of Teesside is to be put on hold after the developer pulled out.
BioRegional Quintain said it would finish an 80-apartment development on the Middlehaven site in Middlesbrough, then its involvement would "end".
Over the next 25 years 750 new homes, as well as shops and leisure facilities, are planned for the site.
But the plan has been put on hold while a new developer is found, site owner the Homes and Communities Agency said.
Anne Mulroy, spokeswoman for the agency, said: "We have to recognise the limitations of the market at the moment, but this was always going to be a long-term development plan for Middlesbrough."
The developer had also promised the long-term redevelopment of the site would create more than 2,000 jobs.
A spokesman for BioRegional Quintain said the apartment development was in its "final stages" and the company would now concentrate on the London property market.
Labour Councillor John McPartland, who represents the Middlehaven ward, said he was confident a new developer would be found.
He said: "I'm disappointed but not downhearted. I have no doubt that because of the attractiveness of the area that, as one developer leaves, another will be chomping at the bit to take over."