James Cook Hospital nursery: E. coli outbreak child link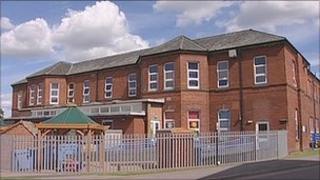 An outbreak of a stomach bug at a Middlesbrough nursery which left a toddler in intensive care was probably caused by a child.
The Playdays nursery at St James Cook University Hospital was closed for a week in August after six people were diagnosed with E. coli.
Now a probe by the Health Protection Agency (HPA) has found the outbreak was probably caused by an unknown child.
It also concluded that the outbreak was dealt with "promptly".
E. coli can cause a range of symptoms from mild diarrhoea to severe vomiting.
Extremely rare complications can include kidney and brain failure.
Five children and a staff member were diagnosed with the illness between 22 July and 18 August, with three needing hospital treatment.
A total of 28 children became ill with stomach complaints, the HPA said.
'Identified promptly'
Dr Deb Wilson, consultant in health protection for the HPA, said: "Considering all of the information gathered, it is most likely that the E. coli was introduced into the nursery by a child with the infection.
"It is possible, but less likely, that it could have been introduced into the nursery by a member of staff.
"However, it is not known which child or staff member may have introduced the infection."
As well as E. coli, one child tested positive for salmonella, Dr Wilson said.
She added: "The E. coli outbreak was identified promptly and investigated as a matter of urgency, reflecting the seriousness of the illness."