Return of steel making to SSI Redcar plant delayed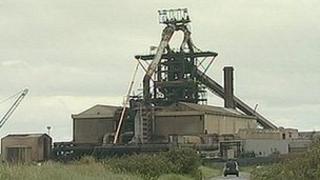 The return of steel making to the former Corus plant on Teesside has been delayed by technical problems.
The blast furnace at the Redcar site, which is now owned by Thai firm SSI, was due to be relit on 8 December.
But the company said a recent inspection had revealed more remedial work needed to be undertaken.
The site was mothballed in 2010, when it was owned by Tata Steel, with the loss of 1,600 jobs. The blast furnace is now due to be relit on 6 January.
The company said its recruitment programme, which will see about 1,000 staff taken on, would not be affected by the delay.
SSI chief executive Phil Dryden said: "The major workload associated with the restart project is reviewed on a regular basis.
"Whilst we are disappointed at not being able to meet our previous target date of 8 December, the important priority is that we complete all of the necessary work to ensure a successful start-up.
"I am aware of and appreciate very much the huge level of public interest and support shown to us and I am sure we will all be looking forward to a successful start-up of operations in the new year."
The first shipment of iron ore for the plant arrived last month.