Council's £75,000 earmarked to save Teesdale axed buses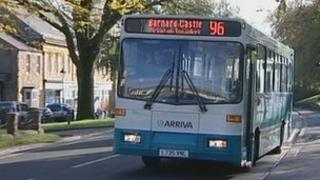 A council has earmarked £75,000 to spend trying to save rural bus services which are facing the axe.
Arriva is planning to axe the 95 and 96 services, which run from Barnard Castle to Middleton-in-Teesdale, from January because of low passenger numbers.
The firm has blamed spiralling fuel prices and low passenger numbers.
Durham County Council has set aside the money to try to "rescue" the services and has invited transport operators to take over from Arriva.
Local residents said the bus services were vital, and pupils from Teesdale School gathered 900 signatures for a petition against the plans in less than a week.
A Durham County Council spokesman said: "We cannot save them all, but we have listened carefully to the concerns raised by residents.
"As a result, we are now inviting prices from bus operators for new services which we would like to see start in January.
"This would ensure that there is no break in delivery between Arriva's withdrawal and the replacement services starting."