Southern Cross inspections showed concerns over care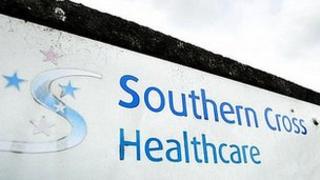 Collapsed care provider Southern Cross was warned about failing standards in its homes as it prepared to float on the stock market, the BBC has learned.
Documents seen by Inside Out summarise inspection reports from homes across the UK which list a series of concerns.
These including people with dementia being "poorly served ", inadequate numbers of toilets and bathrooms and medication running out.
The Darlington-based firm collapsed earlier this year with losses of £300m.
The reports were written between 2005 and 2008 for the Commission for Social Care Inspection, which was replaced by the Care Quality Commission in 2009.
The reports cover a period in which the company was floated on the stock exchange, which made multi-millionaires of its directors.
'Right ethos'
One former inspector, Kevin Mansell, told the BBC: "There were lots of individually very distressing failures, obvious signs that this company was not well managed and didn't invest, and yet their reputation in terms of the market was unsurpassed."
Mr Mansell raised his concerns in a private letter to the Southern Cross board, in which he wrote: "Outstanding financial growth will count for little if the threats to the business from poor care standards are not addressed."
But Southern Cross directors have defended their record.
A spokesman for former chief executive Philip Scott said that when he left the company in 2007, occupancy was more than 90%.
He added: "This would not have been possible if residents and their families did not think the business had the right ethos."
The directors and their private equity backers have been criticised for using a business model, known as sale and leaseback, which allowed the company to expand rapidly in times of high property prices, but left the organisation unable to pay its rent bill in recent years.
Care Minister Paul Burstow told the BBC: "It was a business model only ever fit for boom times.
"This model should never have been accepted in the first place."
Inside Out can be seen on BBC1 in the North East and Cumbria on Monday 7 November at 19.30 and on Sky 975.