Staff shortage closes stroke unit at Darlington Memorial Hospital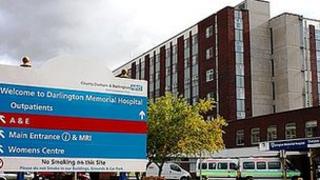 A shortage of specialist staff is being blamed for the closure of a stroke unit at a Darlington hospital.
Currently, stroke patients are treated at the hyper acute unit at Darlington Memorial and at the University Hospital of North Durham.
But County Durham and Darlington PCT said it was no longer possible to run services at both sites because of a shortage of suitably trained staff.
Campaigners said more time should have been spent on a consultation exercise.
The PCT carried out a 90-day consultation, which followed an internal review of stroke services in the area.
It concluded that there were not enough specialist staff to maintain services at both hospitals.
'Not surprised'
Yasmin Chaudhry, chief executive of NHS County Durham and Darlington, said: "Our proposals have been developed in a transparent manner with clinicians, patients and the public.
"The purpose of the consultation process was to gather more evidence, views and comments in order to test the conclusions we have come to.
"The focus of the recent consultation and this decision is about getting the best possible clinical outcomes for the people of County Durham and Darlington."
The Labour leader of Darlington Council, Bill Dixon, said he was "sad, disappointed, but not surprised" at the decision.
He said there should have been more time set aside for the consultation process.
He added: "This process has been flawed from day one. The PCT have not answered critical questions and have claimed travel times are not a major issues.
"I think people in Darlington will be very suspicious about any further attempts to take services out of the borough."