Dementia care cost rise in Darlington unfair: Husband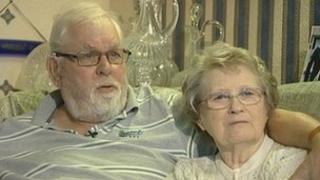 A Darlington man said the current NHS funding system was "unfair" after the price of social care for his wife went up by more than 400%.
Peter Wiffen, 76, is the main carer for his wife Evelyn, also 76, who suffers from vascular dementia.
For one day a week, Mrs Wiffen spends the afternoon at St Hilda's Day Centre in Darlington, which cost them £10 per session in August 2010.
However, this rose to £28.80 in April 2011 and £50.78 in October 2011.
Mr Wiffen said: "The National Health Service was always instituted on the basis of need and not according to how wealthy you were... so just to say that it is down to the fact you've got some money is just an unfair system, it's not a level playing field."
'Have got savings'
Mr Wiffen has to pay for his wife's care as most of it is classed as social care and not provided free on the NHS.
The current system of charging for care is determined by a means test in which social services look at an individual's income and capital.
Elaine O'Brien, of Darlington Borough Council, said: "People are classed as self-funding and it is unfortunate in Mr and Mrs Wiffen's case that they are quite right, that they have got savings and they will have enough money that makes it look against our means test, that they can afford to pay."
The price of the sessions has risen because the primary care trust, which partially funds the centre with Darlington Borough Council, has decided to redirect its resources to other mental health services.
A spokesperson for NHS County Durham and Darlington, said: "We have made a commitment to ensure that funding is redirected, in partnership with Darlington Borough Council to purchase preventative services and support for people of all ages who are no longer eligible for fully funded social care mental health day service support."