Cake baking mums head-hunted for five-star restaurant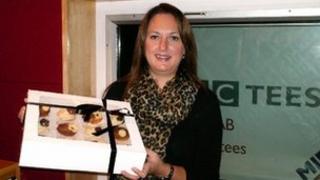 Two mothers from Hurworth have been head-hunted to bake cakes for a five-star hotel restaurant near Darlington.
Erica Royle and Lucy Clark quit their day jobs to try making cakes for a living, and one year later were asked by TV chef Kenny Atkinson to bake for his kitchen.
Their children all attend the same school and met in the playground. After sampling their products, Mr Atkinson snapped them up.
They now bake the afternoon teas at The Orangery restaurant at the Rockliffe Hall hotel in Hurworth.
'Do your research'
Mrs Royle, 38, said: "We were thrilled. It is the culmination of 12 months' really hard work.
"Baking scares me sometimes, I've described baking as alchemy, it's magical, it's chemistry.
"Lucy and I have been friends for a long time and we've always baked. We started baking as a job in October last year.
"I was in marketing at the time, I've always lived my life thinking if you don't try it you'll never know, and that's how I felt when I left my career to do this."
Mrs Royle said it could be a struggle, but luck played a huge part in their success, as well as support from those around them.
"My advice to people wanting to start up their own business is to do your research and get the support of your friends and family. That's the most important thing. And then just go for it. It can work."
'Main issue'
The Orangery is one of 13 establishments across the UK to be awarded three AA rosettes, which is the highest rating the organisation gives.
Kenny Atkinson is best known to TV viewers for cooking up winning dishes on The Great British Menu and has appeared on BBC One's Saturday Morning Kitchen.
Mr Atkinson said: "Locality is important to us, but quality is the main issue. These ladies are both.
"They're making little Batternburgs and little cupcakes and I hope to work with them to create bespoke products.
"It's not like a normal supplier relationship, they acted like they'd won the lottery, our decision really made their day.
"It's all about being part of the community. They fit right in, they're lovely lovely ladies."