Redcar plant step closer to becoming steel making hub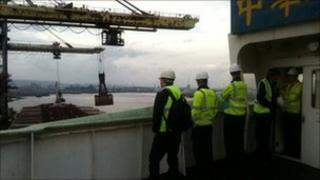 Teesside is one step closer to becoming a hub for steel making in the north east of England after the first iron ore shipment was delivered.
About 139,000 tonnes of iron ore was delivered to Teesside from Brazil after a 19-day trip of 4,000 nautical miles.
The steel plant was mothballed in February 2010, when it was owned by Tata Steel, and subsequently bought by Thai firm SSI in March 2011.
The furnace is due to be relit in December and it is hoped the plant will be able to produce 11,000 tonnes of iron a day.
Dave Johnson, who is the general manager of iron making at the plant, will decide how the shipment will be dealt with.
He said: "Some of it comes as lump ore and that's delivered straight to the furnace.
"It comes from the materials handling plant and it goes to the stockhouse, then it goes from the furnace stockhouse into the top of the blast furnace.
"Some other material goes to the sinter plant. It's basically taking fine iron ore material, mixing it with a few bits and pieces and creating something easy for the furnace to handle - that's called sinter.
"That then leaves the sinter plant and goes into the top of the furnace.
"What happens to both of those ores is they're exposed to temperature and exposed to a reduction in atmosphere that the coal provides then they become liquid iron and liquid slag."
'Big step closer'
The delivery of the iron ore is an essential part of the work going ahead in December.
Redcar will begin to see many similar deliveries once the plant gets back up to speed.
Baird Cross, who is the general manager of the Redcar Bulk Terminal, watched the first shipment being delivered.
He said: "It's really good to see the first iron ore come on board, we haven't had any iron ore cargos for over two years.
"Now we can see the beauty of the jigsaw falling into place, somehow you feel the lighting of the Redcar blast furnace is a big step closer."
SSI said 1,000 jobs would be created and an online recruitment campaign has been running with thousands of people registering their interest.
The Prince of Wales visited the plant on Monday to see how the plans were progressing and was said to be "very impressed" with the furnace.
Graham Dunn, who had been working at the furnace for 36 years but lost his job when it was mothballed in 2010, has now got his job back and will help the furnace get back under way in December.
He said: "It's what this area needs, we've been making iron and steel since the mid-19th Century, so let's get it going again.
"I told [Prince Charles] that I was happy to be back."